Structure and Comfort
The Great Social Hall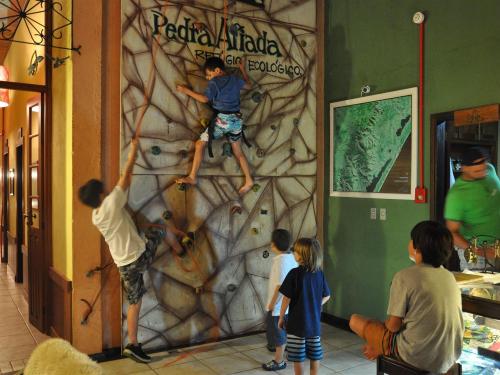 The hall is where everything happens!
Our reception, our shop counter, the bar, the restaurant access for your breakfast, lunch and dinner. The exits for the tours. It is where maps and satellite images of the region are, our albums with activity pictures, a mini library with national, imported and multilingual books.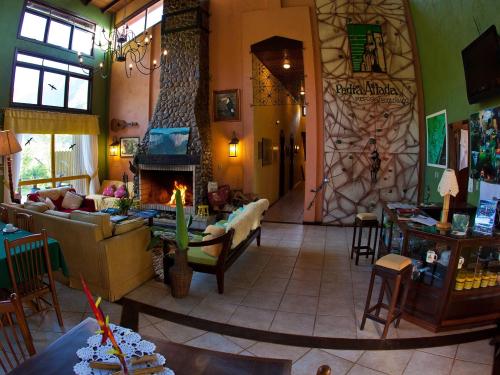 We also expose pictures of animal skins killed by hunters (unfortunately this practice still remains), carcass of animals found "mummified" (that's right!), The softer softer in the world (our exaggeration, of course, but it's almost! right in front of a gigantic fireplace, and our staff are always willing and attentive, wanting you to feel at home!
With 8 meters high foot, in this Great Hall is located our indoor climbing wall. One of the games most requested by children, but that serves as a training of abseiling.
In the monitor (not TV!), Several videos from the region of Aparados da Serra, produced by our team, and others with environmental themes are displayed.
Annex to our social hall is Restô, our restaurant. See it by clicking HERE .
Mini-Arvorismo, Cave of Climbing & Playground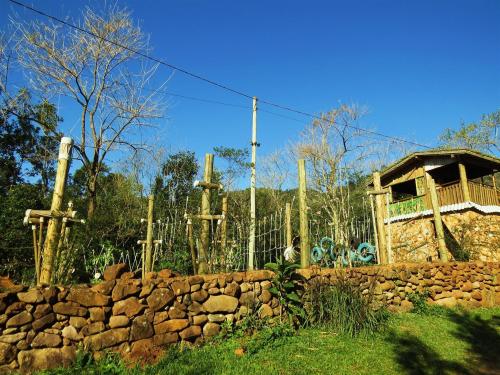 In our garden, we have a special area of ​​adventure! In addition to the slack-line, children (and adults) can play freely in our Mini-Arvorismo. There are 11 challenges under the floor and soft grass underneath.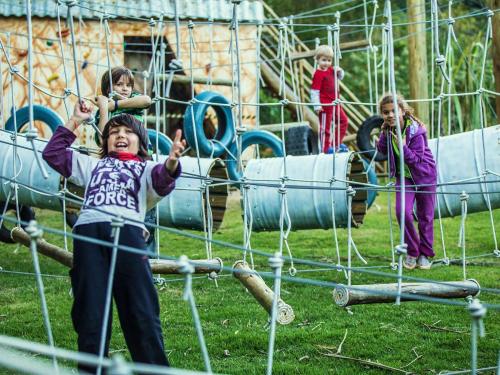 There is also an adventure home with a radical slide, and underneath it a climbing cave completely lined with crash pads , meaning it can fall that will not hurt.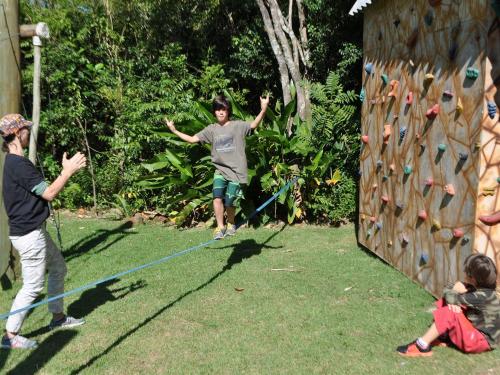 This allows you to take a chance on the ceiling, on the walls, making the turn ... But you do not think it's a cinch ... Fun and a great exercise, that's right!
Turn child and enjoy!
Contemplator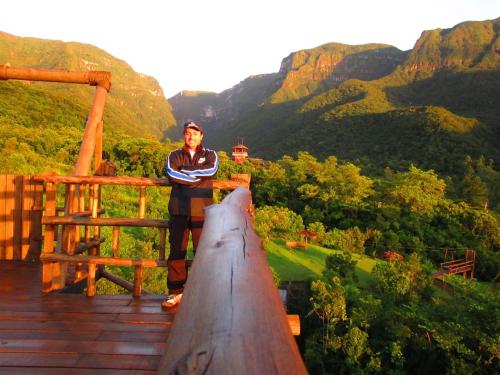 A nice space with a beautiful view! Perfect to enjoy the late afternoon or the morning behind the Malacara, after rain to see the waterfalls or anytime, because the look is cinematic!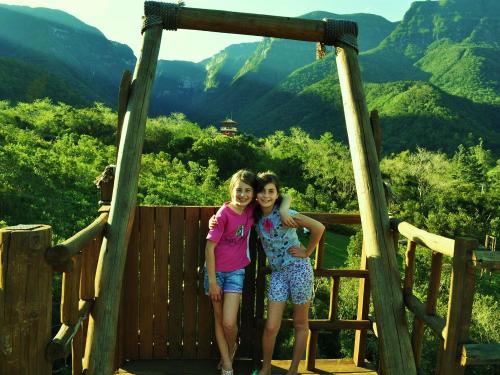 The Contemplador has three floors from where you can see the main building of the inn and in the background the beautiful view of the Malacara Canyon. Downstairs has a meeting room and also very charming parties!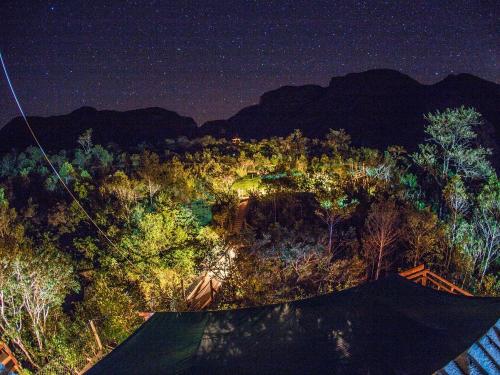 For special groups, we do rappel with the kids from their top! Double Emotion! What about?
In the photo to the side, the fantastic starry sky with the outline of the canyon in the background.
Sauna and Stone Pool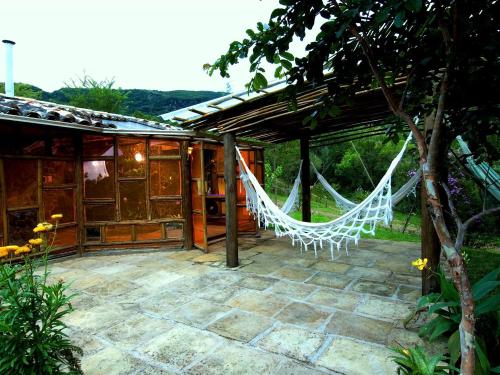 Our sauna was made based on a model we saw in the Andes, next to the Urubamba river. It is a rustic system of wood-fired boilers. Therefore, it is dry. But as we can throw a water over the boiler, the place gets wetter, but not enough to be a steam sauna.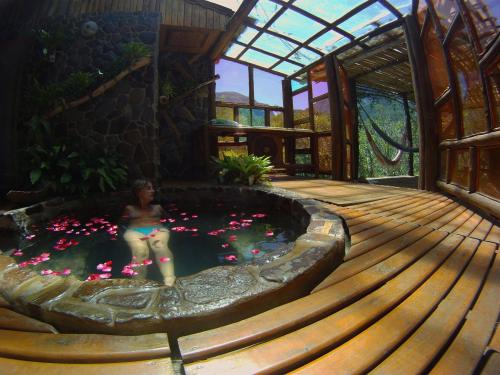 You ask reception staff to turn it on one hour before the time you want to use it. You can even define what the best temperature for you is. We advise around 50 º C.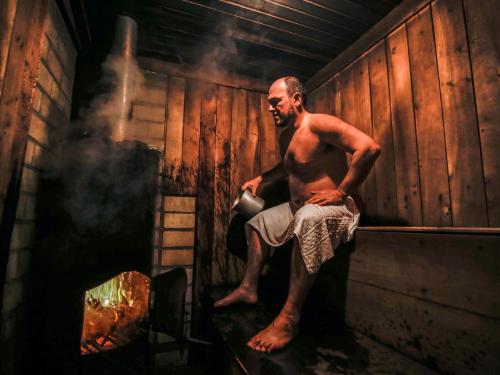 The treatment consists of staying a maximum of 15 minutes in the sauna and then going to the stone pool with water from our mineral source or, to the shower and then back to the sauna. After entering the pool for the third time, your body will be completely relaxed and your circulation activated.
We also suggest to use the sauna when returning from wet trails, such as Rio do Boi, both to relax and to warm up. Joy is immediate!

Yes, we have masseur. Ask at reception!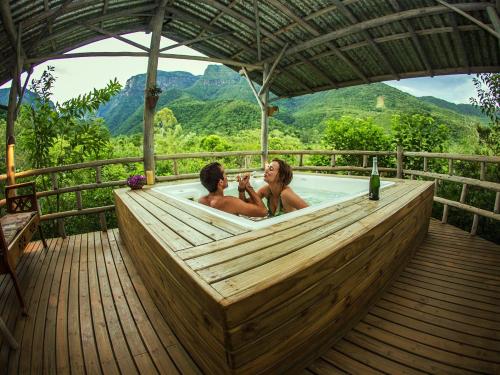 For those who prefer a hot SPA with hydrojet and chromotherapy, check HERE .
Ruler and Gardens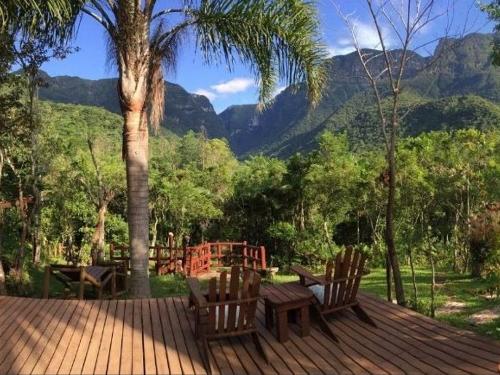 Our room is right next to the Sauna area and is another relaxing place. With a pleasant shade, beautiful view, is a great place for a good chat with friends. Perfect for a chimarrão.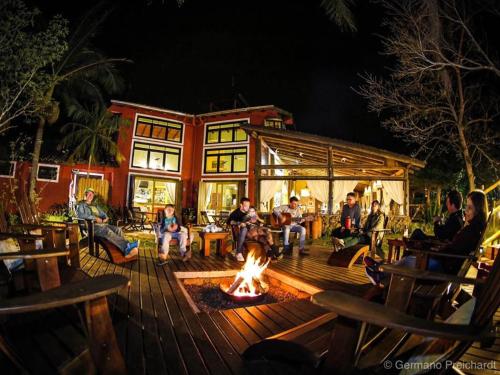 Em nosso jardim, projetamos vários observatórios, bancos especiais e poltronas ao redor da pousada. Quando você passear pela nossa área, pode parar e apreciar o canto dos pássaros, o som da água corrente no rio, observar as borboletas ou simplesmente admirar os diferentes tons de verde.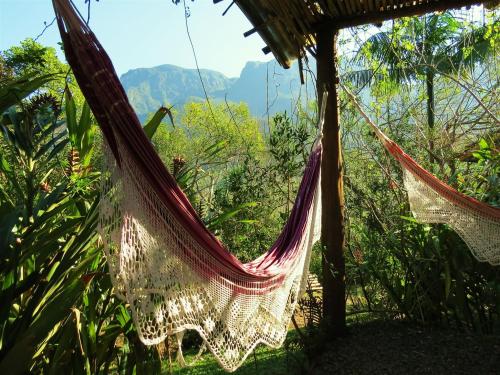 Each time of year has a unique beauty, a different interaction with nature, such as the blossoming of lares, heliconia or find bird nests, bergamot or guava. Enjoy.
Malacara River Margin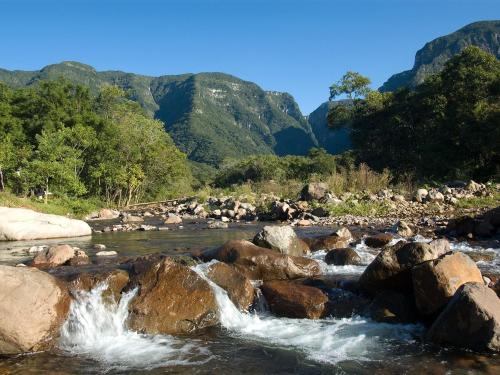 How much privilege!
Having the bank of the Malacara river in our area is very special. Its water is born within the Serra Geral National Park and crosses our lands smoothly most of the year. Clean, transparent, and mineral, its waters are an invitation to bath and fun. A blessing to the skin, hair and spirit.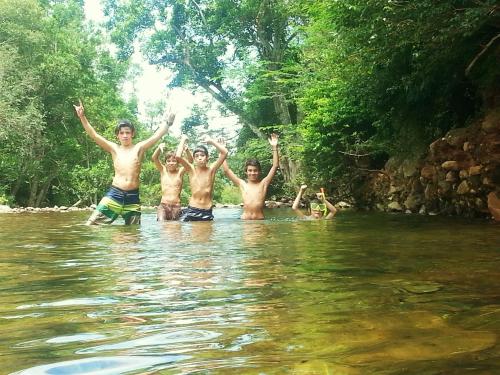 Several small rocky beaches form along the river and you can choose which one is to your liking. Some small rapids massage the back, others are deeper pools. Children love to play in the summer. Bring papete sandals so you can enjoy it better. And our volleyball court is very close, perfect to play a match and then tchibum in the water! ;)